TMOBILE BAD IMEI REPAIR
$

45.00
On sale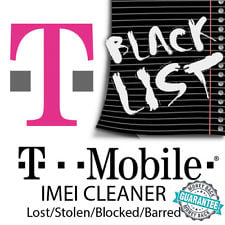 Bad IMEI Repair for TMobile Phones and Tablets only.
Works for all iPhones, Samsungs, LG, Motorola, HTC, iPads, Samsug Tabs.
If you purchased a working Tmobile device and the IMEI is now blocked or blacklisted for non payment, this repair will allow you to use the device on Tmobile's network.
Your IMEI will be cleared within 1-6 hours.
Instructions:
To find your phone's imei - please dial *#06# and submit the imei number with your payment. Please do not use the imei number on the back of the phone as this can be inaccurate.
Unfortunately we are not able to refund payment if the IMEI submitted is incorrect.
This will not unlock your phone for use with non T-Mobile Networks.
This does allow your phone to be used on T-mobile and T-Mobile compatible networks eg - Straight talk, Simple mobile, Metro PCS, Ultra Mobile.
*We provide a 7 day warranty. If device goes bad after 7 days if goes bad, we can try and assist to remove the blacklist but do not guarantee removal.